Concrete Block Making Machine Manufacturer
Factory " Metalika" manufactures high-technology machines for concrete production industry and custom made solutions upon customer's request.
Metalika have been in business for 40 years. Our dedication and experience have positioned us as a leaders in Serbia and surounding region. Our concrete making machines, according to customers from all over the world, have proven as successful, reliable and productive.
Concrete Making Machines :
Simple stationary concrete block Machine VPS-1000

Main features:
• Versatile - wide product range
• Entry-level
• Low-cost
• Single pallet laying (stationary)
• Rigid steel frame
• Precise product height control
• Vibrators timer switch-of
• Simple to use and maintenance
• Strong vibrations
• Manual pallet insertion
• Manual concrete feeding (base and face concrete)
• Concrete hopper (option)

Product range:
• Paving stones (slabs, tiles, interlocking and rustical pavers)
• Curb stones (kerbs)
• Hollow blocks
• Solid blocks
• Retaining wall elements and similar concrete products
• Chimney blocks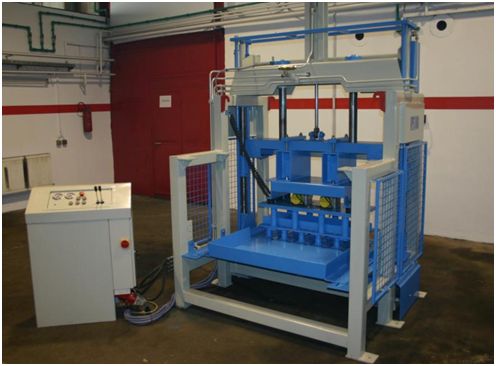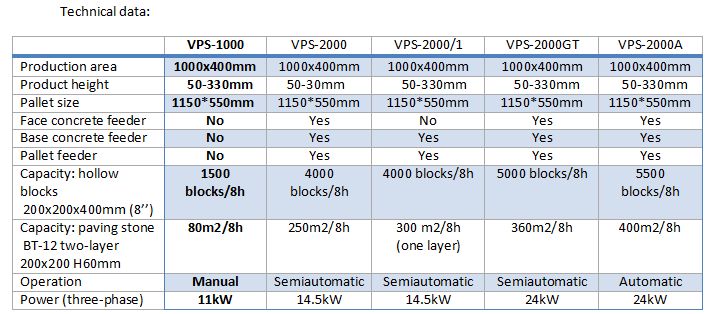 Concrete block machine VPS-2000
Main feature:
• Versatile - wide product range
• Mid-level
• Semiautomatic
• Single pallet laying (stationary)
• Pallet feeder
• Extra rigid machine frame structure
• Precise product height control
• Simple to use and maintenance
• Strong vibrations
• Hoppers and feeders for face and base concrete
• Synchronized pistons for filler box
• Tamper head brush
Optional features:
• GT equipment for high productivity and safety (high performance hydraulic power pack with two pumps, electromagnetic valves, safety sensors, control pult)
• Automatic control unit with touch screen for even higher productivity and accurate cycle duplication
• Varioflex –synchronized, controlled vibrations for maximum product quality
• Color mix system for additional value of products
• Modem link to Metalika technical service department
Product range:
• Paving stones (slabs, tiles, interlocking and rustical pavers)
• Curb stones (kerbs)
• Hollow blocks
• Solid blocks
• Retaining wall elements and similar concrete products
• Chimney blocks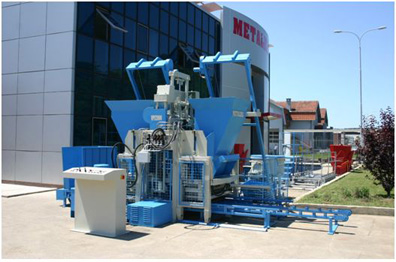 VPS-2000 GT with mixers

Concrete block machines VPS-3000 and VPS-4000
Main feature:
• Versatile - wide product range
• High-end level production
• Semiautomatic or automatic
• Single pallet laying (stationary)
• Pallet feeder
• Extra rigid machine frame structure
• Precise product height control
• Simple to use and maintenance
• Strong vibrations
• Varioflex –synchronized, controlled vibrations for maximum product quality – Varioflex vibration system comes as standard equipment for VPS-3000 and VPS-4000
• Hoppers and feeders for face and base concrete
• Synchronized pistons for filler box
• Tamper head brush
Optional features:
• GT equipment for high productivity and safety (high performance hydraulic power pack with two pumps, electromagnetic valves, safety sensors, control pult)
• Automatic control unit with touch screen for even higher productivity and accurate cycle duplication
• Color mix system for additional value of products
• Modem link to Metalika technical service department
Product range:
• Paving stones (slabs, tiles, interlocking and rustical pavers)
• Curb stones (kerbs)
• Hollow blocks
• Solid blocks
• Retaining wall elements and similar concrete products
• Chimney blocks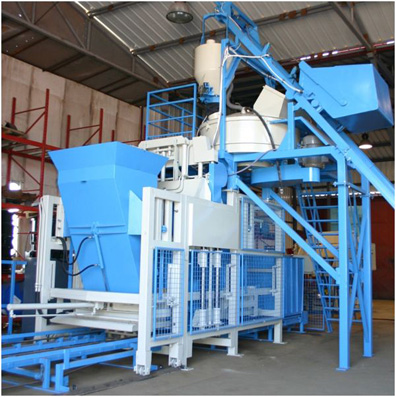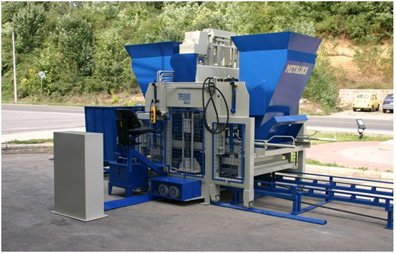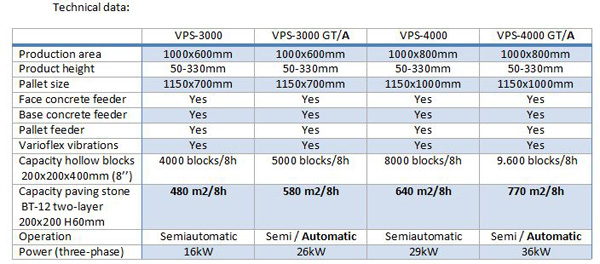 Movable concrete block machines SVP-633 and SVP-12 METALIKA
Main features:
• Specialized for hollow blocks
• High-end level production
• Semiautomatic or automatic
• Egg- laying (movable)
• leaves products directly on the ground
• Extra rigid machine frame structure
• Precise product height control
• Simple to use and maintenance
• Strong vibrations
• Hopper and feeder for concrete
• Synchronized pistons for filler box
• Tamper head brush
Optional features:
• GT equipment for high productivity, safety and precise track (high performance hydraulic power pack with two pumps, electromagnetic valves, safety sensors, control pult)
• Automatic control unit with touch screen for even higher productivity and accurate cycle duplication
• Vibrating table for pallet- laying (stationary)operation
• Modem link to Metalika technical service department
Product range (floor laying):
• Hollow blocks
• Solid blocks
• Retaining wall elements and similar concrete products
• Chimney blocks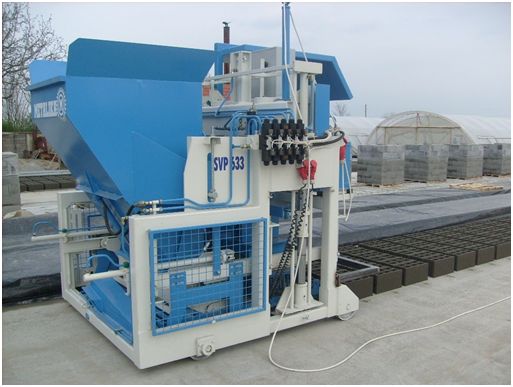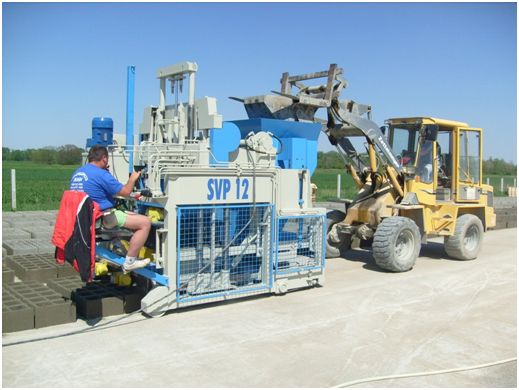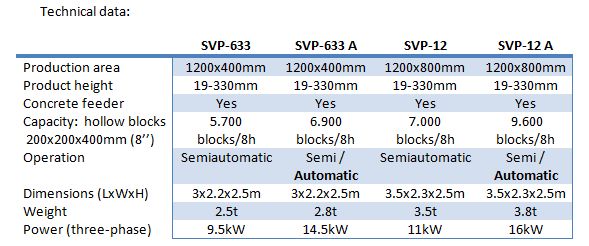 Concrete block plants METALIKA
Main parts of concrete block plant:
A. Wet side
1. Concrete batching plant for concrete production
2. Concrete transport from mixer to block machine (belt conveyor, skip or forklift silo)
3. Concrete block machine (VPS-2000, VPS-3000 or VPS-4000)
4. Automatic control unit with PLC and touch panel
5. Rotating brush for products – cleans wet products before entering elevator
6. Pallet conveyor– from machine to elevator
7. Pallet elevator

B. Curing
8. Forklift or finger car
9. Shelf or racks for pallets

C. Dry side
10. Pallet lowerator
11. Pallet conveyor – from lowerator to cuber
12. Cubing station - gripper for de-paletization and packing of products
13. Rotating brush for pallet's cleaning before turning
14. Pallet turner
15. Pallet return line
Main feature:
• Versatile - wide product range
• High-end level production
• Reducing of man power
• Semiautomatic or automatic
• Single pallet laying (stationary)
• Pallet handling systems
• Simple to use and maintenance
Product range:
• Paving stones (slabs, tiles, interlocking and rustical pavers)
• Curb stones (kerbs)
• Hollow blocks
• Solid blocks
• Retaining wall elements and similar concrete products
• Chimney blocks