The machines for concrete works include:
– Concrete plants. These are machines and equipment for the production of concrete
– Concrete trucks, concrete pumps, tower cranes, are among the machines for concrete transportation.
– Vibrators pavers are the machines that are used for installation of the fresh concrete.
There are also machines and equipment for the manufacture, transport and assembly of products made from concrete elements and systems.
All of these machines for concrete works are distinguished by a number of operational and structural characteristics when performing concrete works in which participate.
Concrete plants are made according to the modern concept, simple construction, with few moving parts. With them is a reliable and economical operation of a life time is long.
They are used for the production of concrete on the construction site or in the factory of concrete semi-finished products. Mini concrete plants are suitable for the production of all types of concrete.
Because of their mobility is easily loaded on a truck or in a container, take up little space. Their installation is quick. They can be installed in one day, their price are going down to meet affordable level. They could be automatic and semi-automatic. They can execute any request, in a cost-effective production of good quality concrete.
Plate presses are used to produce building blocks, and similar products.
Inner vibrators used for compacting concrete. This is a great solution for concreting of large areas.
Machines for concrete elements can be automatic and semi-automatic and used for the production of all kinds of concrete elements.
Concrete mixers are used for mixing and preparing the masses for concrete industrial floors, providing a homogeneous mass and facilitation of obtaining the foreseen quantities of fresh concrete.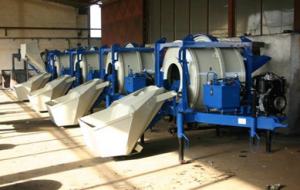 The external means of transport include:
Mixers, Dumpers
The two most automatic machines with are  planetary mixer and forced-storage unit in a closed silo with partitions.
For transport of concrete pipe lines used pumps. The first pumps have appeared on the market in Germany as far back as 193 years. Today's concrete pumps are special machines. A quarter of world concrete pumps installed today are concrete types pumps.